Finding House Cleaning Services: A Detailed Step-by-Step Guide for Homes and Apartments
By Stella Grenn, Handy Blog Author  
July 13, 2023
How to Find House Cleaning Companies and Housekeeping Services
It may seem easy to find a professional cleaning service; however, this simple decision can sometimes become difficult with the consideration of a few tricky factors.
It's best to be on the lookout for frustration caused by negotiating prices, scheduling, inconsistent cleaners, and even unjust payment plans. With last-minute cancellations, surprise fees, or unclear cleaning needs, it can be hard to know what to pay attention to until it's too late. This can cause a lot of unnecessary back-and-forth communication, or, at worst, money wasted.
With Several Cleaners Near You, Trust Comes First!
Finding someone you can trust is no small feat — especially if it's your first time utilizing these kinds of services. Your home is your home - a sacred space that deserves to be treated as such; and, your privacy and safety are always top of mind. Luckily, Handy's Happiness Guarantee and vetted services allow customers to relax, releasing the responsibility of determining the credibility and integrity of potential options.
Here's what we'll cover in this article:
Why Should You Invest in a Home Cleaning Service
Making a List of Your Cleaning Needs
How to Research Cleaning Services in Your Area
How to Pick and Choose Your First Home Cleaning Service
Identifying Your Top Two Services and Finding Discounts
Why You Should Evaluate Your First Home Cleaning Service
Your Shortcut to Finding a Favorite Home Cleaning Service
Why Should You Invest in a Home Cleaning Service?
Finding a good cleaning service is possible and worth the front-end investigation and investment. Implementing a cleaning service does more than check off a box on your to-do list — it will enhance your quality of life, hands down. House cleaning rates are definitely worth it, and here's why!
Less Cleaning, More Enjoying!
These services can be incredibly beneficial — life-changing, even! The most obvious reason is less time spent cleaning and more time spent investing your energy elsewhere. Whether you're juggling kids, a busy work schedule, an eventful social calendar, or you want to create more time for your passion projects, allocating clean-up time to someone else can be one of the easiest ways to extend your free time.
No More Pesky Talk of Chores
Division of labor is another benefit worth taking note of when considering home cleaning services. In fact, according to this article by NBC News, "80 percent of people living with a partner have disagreements about housework."
If cleaning duties are a topic of contention in your household, the best idea may be to remove this problematic debate completely! Implementing cleaning services can go beyond keeping your place spiffy — they can restore your relationships as well.
The Beauty of Consistency
If you choose to set up cleaning services intended to rotate on a regular basis, this choice will undoubtedly bring ease and consistency into your life. For example, Handy's services can be booked directly through the Handy app and are reliable, allowing you to let the pressures of cleaning leave your mind completely. Consider the amount of stress caused alone by thinking about chores, housework, home maintenance, and when it's going to get done - not to mention the responsibility of doing them! Interestingly enough, trying to clean up after work makes it especially hard to reduce levels of the stress hormone cortisol. It's only until you eliminate this pressure that you realize how much mental space it can take up in your daily life.
As stated in one of Handy's customer reviews, "It's such a pleasure to come home to a clean home." This is just one of many reviews from customers who are equally delighted with the results of home cleaning services. Implement a local house cleaning service and you'll be amazed at what a life improvement it can be!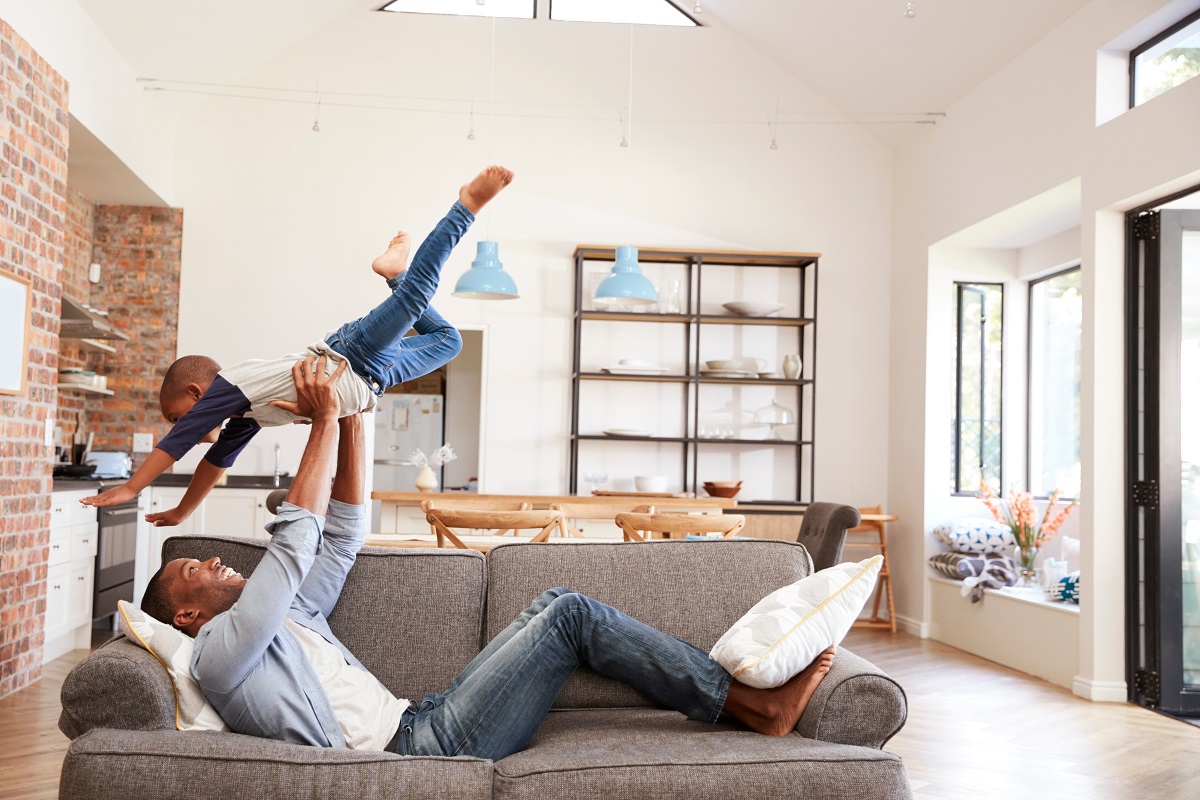 So, you're probably thinking, "how do I know which cleaning service is best for me?" Great question! We've come up with this comprehensive guide to help you get started.
Step One: Make a List of Your Cleaning Needs
Take a close look at your home — what needs cleaning? To add, what standard of clean do you want to set for your home? It's important to determine what you prefer your ideal home environment to be. Our tip? Start by getting clear on your cleaning needs, and you'll quickly find your way around the cleaning service process! Here are a few questions to help you identify what it is you're really looking for in a home cleaning service.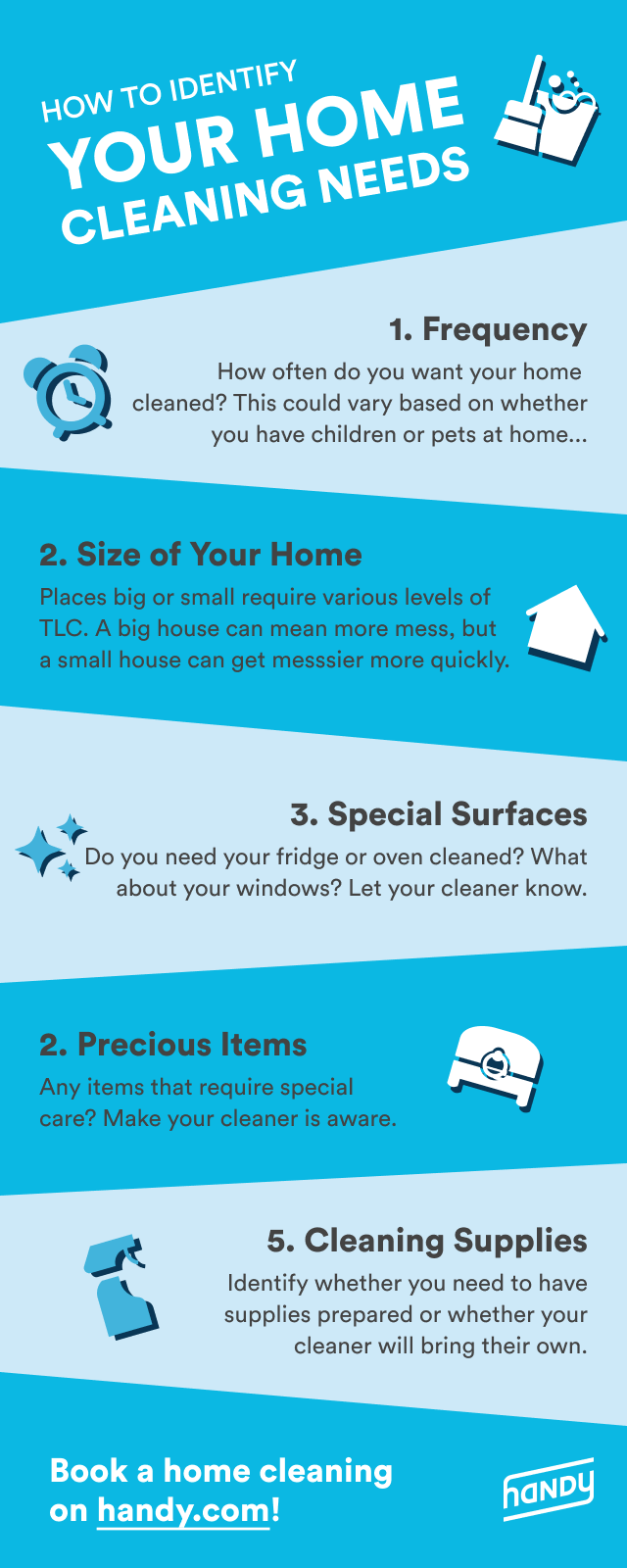 1. How often do you want your home to be cleaned?
This factor can vary greatly from household to household. Do you have young kids? Unruly pets? A disorganized spouse, or plenty of roommates? Is your home relatively clean already, and you're simply looking for some around-the-house assistance? For example, a once-a-week cleaning may be necessary to some and extravagant to others. It all depends on what happens in your household when your cleaners aren't there, and what standards you hold for the cleanliness and hygiene of your home.
2. How big is your home?
Your cleaning needs can also depend on how big your house is, not just what goes on inside it on a day-to-day basis. In many cases, more space can often mean significantly more mess. To add, larger spaces may seem deceptively "not that bad" until they reach the treacherous point of no return. If cleaning requirements remain unmet, a homeowner of a large house can go from a little unorganized to in over their head in a matter of a few days.
Additionally, if you have extra-high ceilings, hard-to-reach windows, unkempt attic space, or areas ignored altogether, hiring extra assistance may be more of a necessity than a luxury.
Smaller spaces also have their own unique set of requirements. Less room means more consistent upkeep required — this is because every nook and cranny is much more noticeable. In order to keep a quaint home kept, consistent and regimented cleaning is absolutely required on behalf of its owner, tenant, or the professionals they hire. With especially small spaces, there isn't much breathing room to let messes be. Before you know it, your clutter can turn into a cleaning emergency! Fortunately, some platforms like Handy offer on-demand or next-day home cleanings for these scenarios that sneak up on us.
3. What is it that you specifically want to be cleaned?
Do you have any specific requirements or ideas in mind of areas you want or need to be cleaned? For example, are your windows looking worse for wear? Is your oven, fridge, or other appliances in need of a little extra care?
If you have detailed expectations of what needs work, make sure you're only looking into services that are able to expertly provide what you're seeking. After all, not all cleaning services offer this level of attention to detail! If this point resonates with you, make sure your selected cleaning service offers the full range of your home cleaning needs and specifications.
Types of House Cleaning Services
Remember, house cleaning services can cover much more than just your basic back-to-clean routine. Depending on the company you choose, here are some of the options that might be available to you:
Apartment cleaning services
Deep cleaning services
Move out cleaning
Curious about deep clean house cost estimates, or house cleaning costs in general? Simple searches of "deep cleaners near me" or "move out cleaners near me" should do the trick. You'd be surprised — there are a number of professional cleaning services that offer cost-effective solutions for your dirtiest jobs.
4. Do you have specific items in your home that require special care?
This is a piece that's often bypassed when searching for cleaning services. For example, look around your home and witness the vast variety of items within it — there's a good chance that some or many parts of your home require more than a basic level of care. A truly clean home means that no parts are overlooked and the upkeep of each separate area and piece is considered.
This is yet another reason why it's good to do your cleaning services research — if the cleaners you hire don't match your expectations, you could even end up with damages that cost you more in the long run. This point also circles back to the importance of trust — if your home contains fragile or valuable furniture, art, and collectibles, leaning on a mindful, careful, and dependable cleaning service is priceless.
5. Do you have your own cleaning supplies, or does the home service need to provide them?
Supplies may not be the first thing you think of when hiring a service that allows you to be more hands-off. With that being said, be cautious of assuming that all cleaning services automatically come with all of the tools needed.
You may be the kind of person who finds joy in keeping their place stocked with a myriad of top-quality sprays, disinfectants, wipes, towels, and assorted cleaning gadgets. Even if that's the case, it can be a nice relief to leave this stock and cost requirement to the professionals. Service Professionals in the Handy network come equipped with all the supplies needed to get the job done spotlessly. Ultimately, this means one less thing for you to think about!
Note: If you're the aforementioned type who likes to use specific tried-and-true products, a Handy cleaning professional can accommodate these needs as well with a simple heads-up.
6. Are you comfortable having several new people clean your home, or do you want to find one person to clean your home and stick with them?
This is an admittedly leading question, but one we think is important to consider. As mentioned earlier, hiring a cleaning service is not only helpful in clearing physical clutter. It can also eliminate unnecessary mental chatter and constant toiling about household duties. If this is of concern to you, it may be helpful to stick to the simple choice of hiring the same helper every time.
This question also lends itself to the previously mentioned benefits of consistency and ease. Through the repeated use of one trusted professional, you can know what to expect every time; comfort, clarity, and execution that's up to par.
Are you unbothered by the idea of having several alternating home aids? If so, there's no reason to sweat it when you have Handy on your side. All of Handy service professionals are carefully screened and well-equipped to meet your cleaning needs.
All in all, identifying your cleaning needs may take a little practice if cleaning isn't your strong suit to start. If this is the case for you and you're needing more assistance beyond this list, you can refer to this article that outlines a whole-house cleaning schedule in detail.
Step Two: How to Research Cleaning Services in Your Area
Once you've identified all of your individualized cleaning service needs, how do you know where to look first? If you're embarking on this journey without previous experience or recommendations, narrowing down your decision can be daunting. Thankfully, there are a few highly comprehensive search engines that have likely started your work for you!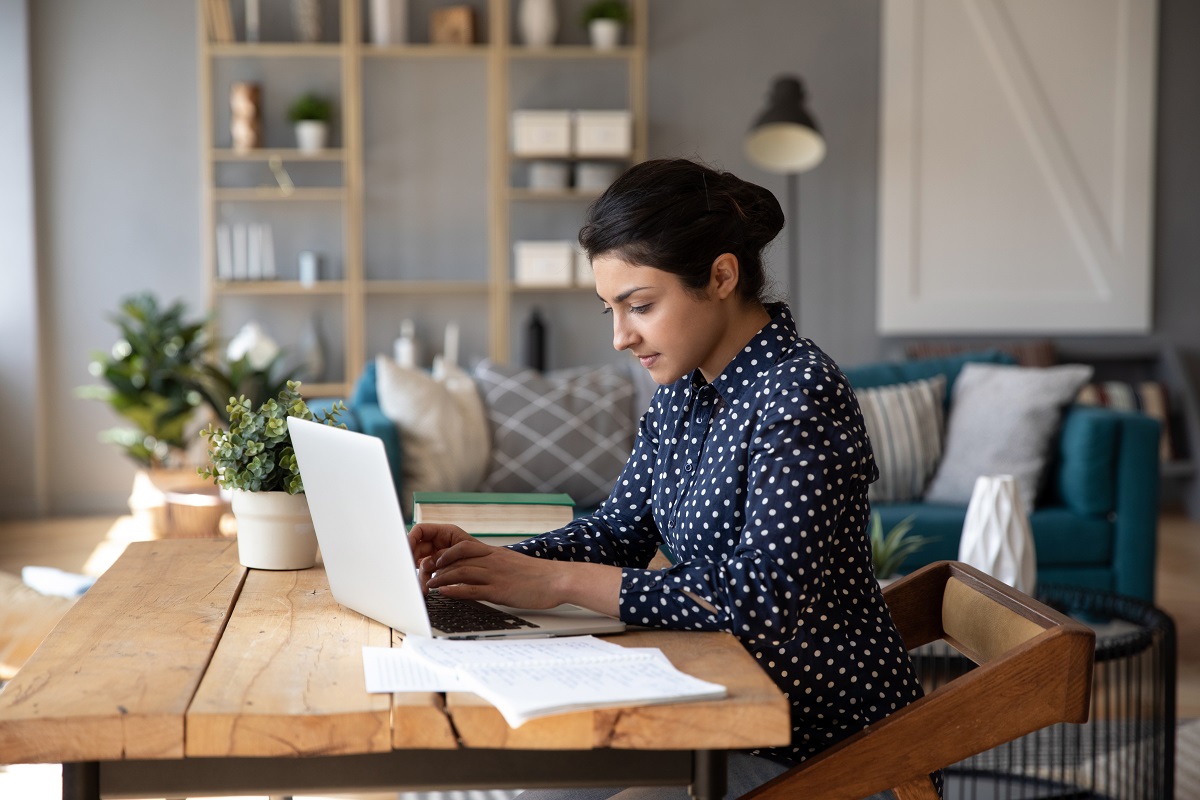 1. Groupon
Groupon is a great two-birds-one-stone approach to finding amazing services for unbeatable deals. Furthermore, this is an especially good option if you're still unsure about implementing a cleaning service into your home-care routine. With the use of Groupon's discounted rates, you can try out this accommodation without the commitment of paying the full standard rate your first time around.
2. Trustpilot
If customer reviews mean a great deal to you, Trustpilot is a favorable search engine that can quickly provide peace of mind.
As hinted in its name, Trustpilot is a review platform that helps you "find companies you can trust." This is essential information when searching the web for your next cleaning service!
Reading ratings from real customers will make you feel like you have a companion in the process helping you along with some hard decisions. In addition, Trustpilot makes it really easy to compare, contrast, and rank businesses in a clear and concise way. You'll easily be able to browse reviews over a wide spectrum of services which may help you identify additional cleaning needs that you may have been overlooking.
Check out the Trustpilot website for yourself, and you'll see that Handy has a 3.9/5 rating. Scroll for helpful reviews and recommendations on Handy service professionals and services!
3. Google or Bing Search
Here's the thing — the returned results of a Google or Bing search in the tune of "house cleaners near me" can lead down many different avenues. Not all home cleanings are created equal, as reflected in each company's business model.
Some cleaning companies fit into the small business category while others operate more like large marketplaces. There is no right or wrong answer — the choice is up to you. However, it is important to weigh the benefits of each type. For example, does the service offer an instant booking process?
When it comes to searching for home cleanings, you can receive results ranging from one-off Craigslist leads to vetted, full-service providers like Handy. With such varied results, make sure to use your discretion wisely!
Keep in mind, it's crucial to check external reviews before booking a cleaning service found through Google or Bing. Unfortunately, the internet is full of convincing scams, so make sure you're doing your due diligence to fact-check unfamiliar links and websites.
Are you looking to be a more efficient internet searcher in general? If you know what you're looking for in a home cleaning service, as well as how to look for it, the internet will efficiently link you up with the cleaning service links you need. For more tips on researching local cleaning services and any other topic that comes to mind, scroll through this read that reveals 20 Google Search Tips to Use Google More Efficiently.
4. Word-of-Mouth
Even if you're not starting out with a recommendation, it might be helpful to request one or two from your personal and professional networks. After all, one of the best ways to find a cleaning service you trust is by asking friends, acquaintances, and co-workers who understand your standards and wouldn't steer you wrong.
Do you have a loved one, neighbor, or family member that you associate with their spic-and-span home? Ask them outright how they manage their consistent level of cleanliness! Chances are they're leaning on a little help from the consistent use of a tried-and-true cleaning service.
You can even ask your social media following, "does anyone know of a good cleaning service near me?" This quick question will surely turn up a few helpful nudges in the right direction.
In addition, asking for guidance from a valued friend or colleague may work kindly in their favor as well! Handy offers referral programs that pay it forward to those who share through enticing discounts and other helpful incentives.
With your needs identified, you're now ready to sign up for your first home cleaning! Here's how to pick the best home cleaning services in your area.
Step Three: How to Pick and Choose Your First Home Cleaning Service
When it comes to cleaning services, making a well-informed choice may result in huge savings. Review what resonates (and what doesn't) with all of the options available to you — you may be surprised by the reward of your efforts. In the spirit of putting this principle to the test, it's time to weigh the pros and cons!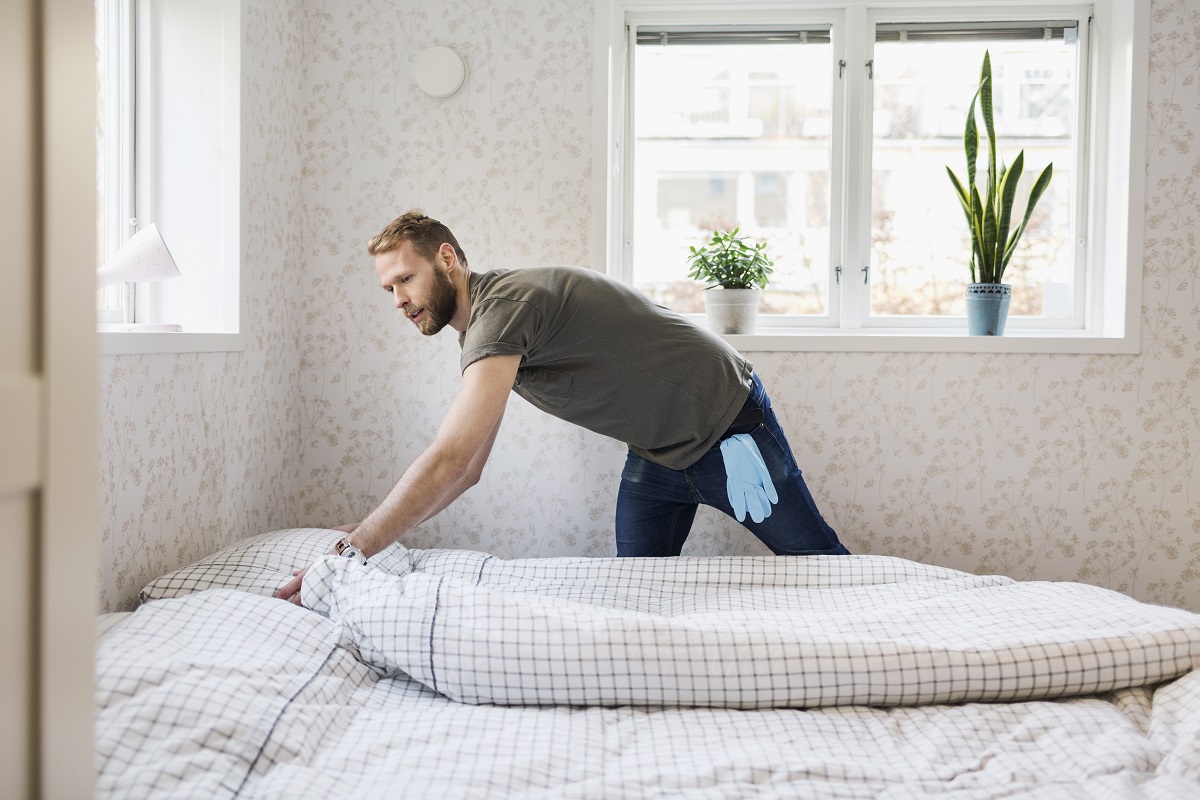 1. Ease of Use
Convenience is key when it comes to cleaning services. Hiring extra hands around the house should create more ease in your life — not the other way around! To ensure that your home cleaning service is user-friendly and accessible, first, take a look at what resources they offer. A quick visit to a company's Help or Customer Service page can ultimately help you feel confident in your final decision. Here are some things to look for.
Book Online Instantly
If you're implementing a cleaning service into your everyday life, chances are you don't want to spend a whole lot of time on online booking either. It only takes 15 seconds to enter your zip code and get a quote through Handy's app or web browser.
Do they have a phone number or chat feature?
Convenience also comes in the form of accessible communication. Does your service of interest have a phone number or chat feature, as well as reasonable call hours? If a company is easily reachable, that may be all you need in navigating cleaning service conundrums along the way. To best accommodate customers, Handy has recently introduced a chat feature, making it easier than ever to reach a service representative in times of need.
Accessibility
When choosing a cleaning service, also pay attention to accessibility. Your service may suit you just fine in your current city; however, what if you need to relocate? If you choose a company with high accessibility, finding a new cleaning service will be one less hassle you'll need to deal with if your situation changes.
Handy is available in all major U.S. cities and is also active in many parts of Canada, as well as the United Kingdom! If you decide to make a move, chances are Handy will be there waiting for you to pick up where you left off.
To add, Handy also offers next-day availability for when you find yourself in a pinch or a tight turnaround. Whether you're a last-minute planner or you like to be prepared for the unexpected, considering services with next-day availability may be a smart move for you.
Accessibility also plays a part in the difference between independent home cleaners and a company that offers cleaning services. For example, if you choose a company like Handy, you'll know that there will always be a number of cleaners available and qualified to clean your home. When using one home cleaner, or even smaller cleaning companies, this isn't always guaranteed to be the case.
2. Types of Cleaning Plans
If you're looking to establish a longstanding relationship with your cleaning service, make sure you choose a plan that aligns with your cleaning goals and vision. Here are some questions to consider.
Are there any memberships that offer reduced fees as an incentive?
Depending on the company, some cleaning services provide plans with valuable incentives, including reduced fees. For example, Handy gives customers the option of two memberships; the Handy Savings Membership and Handy Select Membership. Either of these plans is a no-brainer for repeat customers; plus, they include reduced fees as one of their many perks.
Handy also recently launched a loyalty program for one-time cleanings. After your 10th cleaning service, your next is free! Think of it as a punch card for home cleaning services. With each booking, you will receive a confirmation email specifying how many bookings you've made toward your goal. After your 10th booking, the confirmation email will provide you with the coupon code you can apply at checkout to get your 11th cleaning for free!
What is the length of the plan offered?
For one, be wary of companies that don't offer plans at all. This may be the first sign of a scam, showing they know full well they can't deliver consistent results! On the opposite end of the spectrum, cleaning companies that provide longer plans with plenty of incentives indicate a rooted confidence in what is being offered.
Alternatively, you may still be on the fence about whether or not to fully commit to a service. If this is the case, that's okay! Many services, including Handy, allow customers to modify the frequency of their cleaning plan when making a selection. This way, the pressure's off, but the option to extend later is also there.
Are there any cancellation fees?
Cancellation fees are an essential part of the deal. Although some fees can be read as unfair, cancellation fees are just and necessary for companies that offer cleaning services; they protect their business and the professionals they employ.
With that being said, you should absolutely use discretion when comparing the stipulations of varying cancellation fees. Compare and contrast the length of time in which you can cancel and at what cost. Handy's cancellation fees are $25 with less than 24-hour notice, and customers can cancel 24 + hours ahead of time at no cost. If a company's cancellation fees feel reasonable, it's a green light.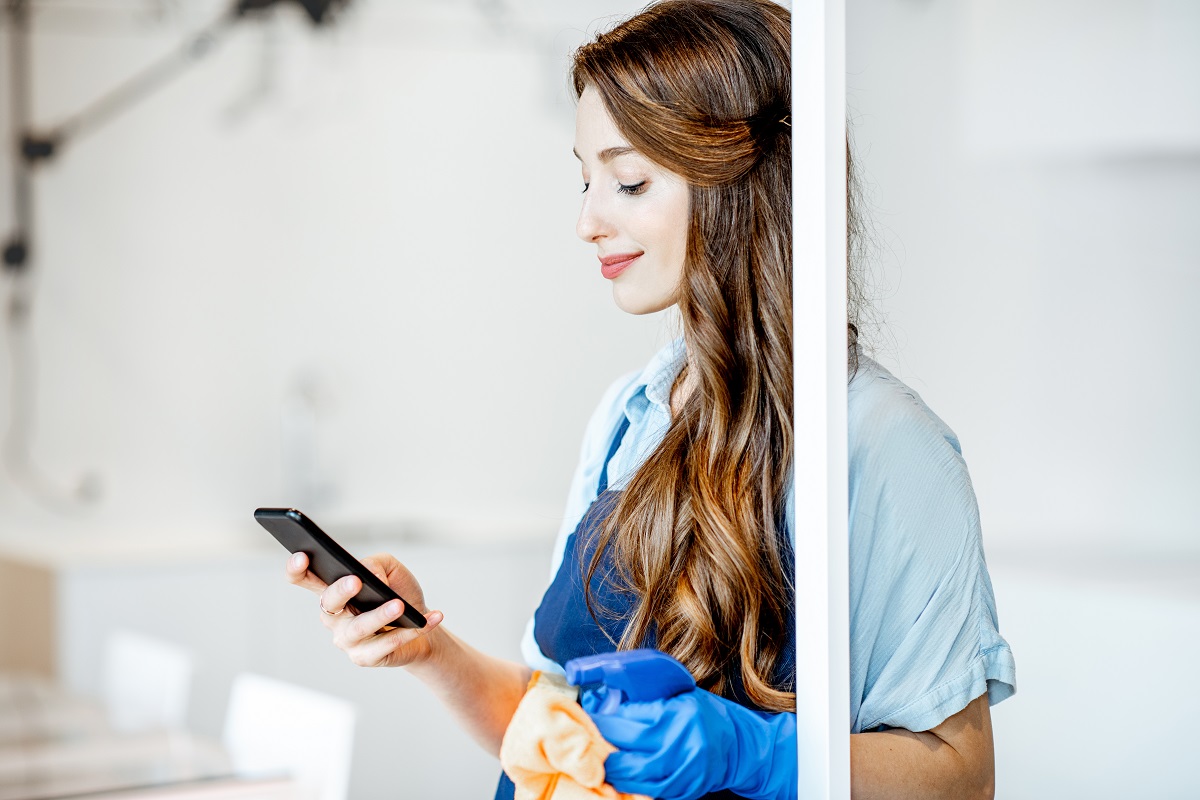 In short, it's important to weigh all of the essential elements pertaining to a pricing decision. Although seemingly simple, house cleaning prices concern several quantifications, including base price, recurring discounts, fees, included perks and incentives, and membership value. Weigh in, and remember — house cleaning cost goes a little deeper than just comparing the first sets of numbers you see. If you're asking, "how much to clean a house?" know that it depends on a variety of factors.
3. Reviews
This may be your first time hiring a cleaning service; however, utilizing this accommodation is nothing new! Many people all over the world use cleaning services and have plenty to say about them. By scrolling through reviews, you can gain clarity on what's really going on beyond what's advertised.
Are you checking outside of the company's website?
Before trusting a company's site reviews, it's essential to cross-check them first through other internet resources. Websites and apps like Trustpilot and Sitejabber allow web surfers to locate third-party reviews that are truly unbiased and solely based on genuine opinion.
Are you reading reviews carefully?
If you decide to stay on-site, at least make sure to read reviews carefully. Armed with the knowledge that reviews can be bot-generated, created within the company, or sponsored/paid, your intuition will likely tell you if a stated review doesn't seem sincere.
4. Accountability and Trust; Find a Service You Can Count On
The in-depth process of choosing a cleaning service may seem extensive; however, it will save you time and energy in the long run while ensuring security. By taking the time to study a company's policies, you'll gain the necessary trust and reassurance that you're well protected in this new process.
Terms and Conditions
Our homes are where our loved ones and most valuable possessions live. Because of this, careful consideration is required. If there's one thing you should focus on when comparing plans, it's the Terms & Conditions and Damage Policies. Accidents can happen, so you want to make sure you're covered and protected within your plan, instead of left in the dust.
Handy provides excellent customer care, as seen in its Happiness Guarantee. As stated on the Handy website, "your happiness is our goal. If you're not happy, we'll work to make it right."
This feature of Handy's customer care covers certain losses up to $2,500 and even addresses dissatisfaction by offering reperformed services. These are just a couple of ways Handy ensures the happiness of its customers — as outlined in their policies, this is clearly stated as a top priority.
Background Research
Welcoming new people into your home is definitely an act of trust. Instead of going in blind, let Handy do the background research for you! Pros on the Handy platform are Vetted Home Cleaning Professionals, ensuring that your safe space stays that way.
For one, Handy pros must first go through a background check process in order to move forward. In addition, their identification credentials are also checked through a separate screening process. This screening process requires applicants to provide detailed information on themselves as well as their work experience, which is then cross-checked with the use of computer technology. All in all, Handy takes these matters very seriously!
5. Pricing
Last but not least, pricing is an essential factor in this overall decision. This factor will likely bring up more considerations than initially anticipated, so be sure to look at all angles of this crucial category. By using the steps below, you can create your own house cleaning pricing guide as you complete your search.
Make note of the full price and the discounted price offered
In addition to comparing and contrasting services, you should also compare and contrast discounts. There are so many ways to find and receive discounts, and you may be surprised by the amount you can save. A big difference in discounts may just be the deciding factor in selecting your official first pick.
It's also necessary to understand what house cleaning prices you'll be paying moving forward and most of the time. A stellar discount can seem too good to pass up, but not if the following scheduled house cleaning services prices skyrocket.
For example, certain providers require you to sign up for a month-long plan, and some of these plans require a fee for early cancellation. If you're building regular cleaning services into your budget, make sure a plan's typical pricing feels both fair and sustainable to you.
Are there any additional and/or hidden fees?
Remember to keep a lookout for fees that aren't so obvious at first, and learn to discern their level of necessity (or lack thereof). Depending on the context, fees can either be easily avoided or understood and valued.
For example, Handy's Trust & Support Fee covers third-party identity checks of service professionals, ensuring safety and comfort for its customers. In this case, the cause is
worth the minimal addition! On the other side of this debate, watch out for hidden fees that aren't all that necessary or created within your best interest. This can tell you a whole lot about the integrity of the company in general.
Additionally, be careful not to assume that everything is included. Most cleaning services charge extra for accommodations beyond regular maintenance, and many companies are unwilling to cross these off your list in general. If services like window cleaning and laundry are non-negotiable areas of focus for you, this question can be incredibly essential in your decision-making process.
To put it simply, convenience, trust, and price are three great priorities to have when searching for a cleaning service. Without these in mind, you may find yourself in a stickier situation than before! Use these factors as your compass, and you're likely to find a cleaning service that suits you well.
If you're looking to gather more insight beyond this article and the results of your own detective work, check out this article on what to expect when you hire a cleaner.
Step Four: You Can Now Identify Your Top Two Services and Find Discounts
So you've narrowed your home cleaning companies to your top picks. How do you choose? We recommend doing one final check for the best discount around. These are some tips to make sure you're getting the best bang for your buck.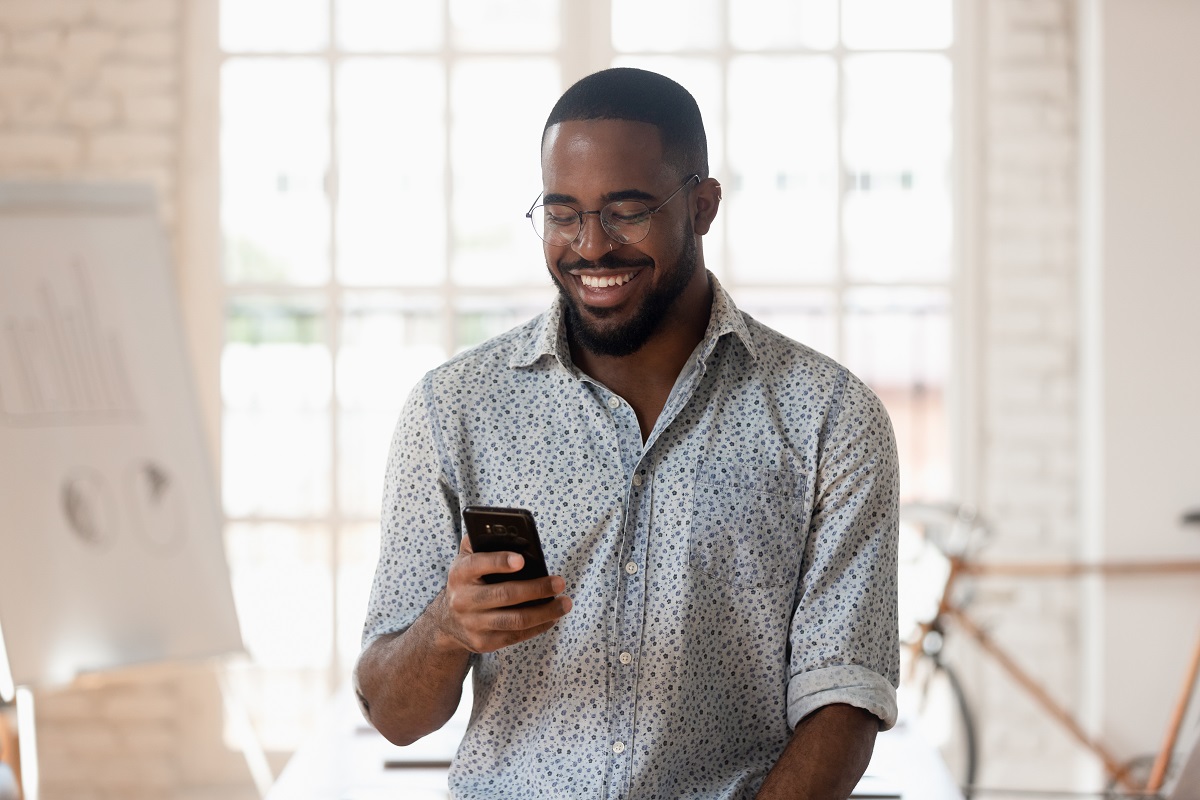 1. Sign up for a mailing list and wait to receive a discount
If it's your first time trying out a service, jumping on their mailing list is a must. This move is likely incentivized with a great discount or other unexpected rewards. Plus, you can choose to get updates about discounts and deals in the future!
Can't wait for a discount? If you need your home cleaned right away, some sites offer immediate discounts with a simple submission of your email and phone number. Check out Handy's website to access an easy option for an immediate discount.
2. Search on discount sites
It's effortless to find discounts when the Internet is on your side. Furthermore, there are so many sites out there that aim to lead searchers to deals they didn't even know existed. To make sure you're fully informed about what savings are available to you, check out any or all of these sites.
Groupon or Rakuten
As mentioned earlier, Groupon is one of the best resources for scoring savings on cleaning services. It features hard-to-beat deals on a variety of apartment cleaning services, deep cleaning services, and housekeeping services, especially for first-time customers. In general, Groupon is a great place to try out new things, rationalized by their limited-time-only rates.
Rakuten also rewards customers; however, in a slightly different way. Rakuten identifies cash-back opportunities in your area and online and additionally pays it forward to those who shop through their app and website. Who doesn't love a few savings here and there?
Handy Discount Codes
If Handy is on the top of your list, Groupon and Rakuten are both great avenues to getting an even sweeter deal than what's already on offer. Or, for an easier route to Handy discounts, the Handy website and app routinely drop great coupons. Here's one for taking the time to read this blog post! Save $50 off your first 3-hour home cleaning when you sign up for a plan*! Use code GETHANDY2022
Your employer's discount website (if you have one)
If your job provides benefits, make sure you're fully utilizing all that's included. Remember, many work benefits go beyond healthcare and vacation time. Some workplaces offer their employees access to a discount website, which may include a vast variety of opportunities to save.
If your workplace covers costs in this way, then their discount website may be the first place you want to look! Most discount websites only deliver one-time or limited-time savings; however, there's a good chance you can grab consistent deductions on house cleaning rates through your employer's provided perks.
Your credit card's discount page
Similarly to this last tip, your credit card's discount page could also potentially feature the cleaning service frontrunners you've had your eye on.
This is another often overlooked way to save money in your everyday life. Beyond cash rewards and airline savings, have you taken a moment to look at your card's discount page? Most credit card companies provide a discount page to help customers extend their dollar. Before paying full price anywhere, take a peek at the number of professional cleaning services hiding in plain sight on your credit card company's discount page.
Discount apps such as Sweatcoin
This one is a little off the radar, but have you heard about the app Sweatcoin?
Sweatcoin is a unique app that rewards users for their physical activity by converting steps into currency in the form of gift cards and online discounts. If you're someone who is especially active or is looking for a reason to pick up the pace, a download of
Sweatcoin is definitely a good idea. Discounts and credit towards Groupon and other saving sites can be found in Sweatcoin's list of reward options. That's how you get a double discount on a local house cleaning service!
Mailing lists such as The Skimm
We mentioned mailing lists previously, but that was specifically addressing the mailing lists of potential cleaning services. You can also join mailing lists that will give you updates on when new discount offerings arise, including the best home cleaning services in your area!
The Skimm is a news website that keeps readers up to speed on everything from breaking political news to pop culture phenomenons. The site sends out daily emails with all kinds of articles that fit into this array. Also included from time to time are new deal sightings! If you subscribe to The Skimm's email list, you'll likely gain more than just valuable insight.
3. Ask your friends for referral discounts
All this being said, you may not even have to get on your computer to get the best deal available to you.
Referral discounts are one of the most advantageous avenues to the most savings possible. If you're asking around for the best cleaning service in town, you may as well ask for referral discounts while you're at it!
To add, referral discounts are oftentimes symbiotic. While you reap the benefits from your helpful friend, they're likely getting something out of the exchange as well! Also, on the topic of referral discounts — once your cleaning service is in full swing, make sure to remember this gift that keeps on giving. For example, Handy rewards customers who share referral codes by immediately sending discounts their way in return!
We've mentioned our top picks for discount sites, but these days, discount sites are a dime a dozen — and many of them are great! Utilize this list of best coupon sites to discover savings on home cleaning services, as well as anything else you wouldn't mind saving money on.
Step Five: Why You Should Evaluate Your First Home Cleaning Service!
Congratulations! You've officially settled on your first home cleaning service. What's next? Here are a few follow-up steps which will help you evaluate whether or not to stick with this service.
For example, you'll want to make sure that the pros handling your assigned services are the right fit for you, and that the service is something you can see fitting into your usual routine moving forward. Case in point, you can only learn so much during the selection process — the right fit becomes most clear when it's set in motion.
All of the best house cleaning services encourage users to evaluate their first home cleaning service thoroughly and honestly. That way, improvements are made, and current and future customers can expect optimal performance from the professionals they hire. These are the steps to getting into your cleaning routine groove after initially selecting a cleaning service.
1. Get to know your home cleaner
Many cleaning providers offer helpful stats about their home cleaners including unfiltered customer reviews and informative profile details. Before your cleaner even steps foot in your house, chances are you'll have a good idea of who they are and what skills they can provide. However, it doesn't hurt to ask a few leading questions! These queues will give you a better sense of what you can expect on a long-term basis.
How long have they been cleaning homes? What are their go-to cleaning products?
This question can help you determine the types of people the cleaning service company tends to hire. A great cleaning service company will have experienced and knowledgeable cleaners. Furthermore, these professionals will know to come equipped with an extensive kit of high-quality cleaning essentials. This point of inquiry alone offers great insight.
How do they feel about the home cleaning service?
You might ask this question to get a sense of what the home cleaning service company is like. After all, the way they treat their cleaners is an extension of how they treat their customers. We've seen it all before — when a worker is happy within their work environment, they perform better and are excited about the work they do. Hire a happy cleaner, and everyone wins!
Are they available on a consistent basis? What are their preferred working hours?
This question is important if you're looking to find one designated cleaner for your home. You may love the professional that showed up for your one-time service; however, this cleaner may not be available consistently. If this is the case, you might want to continue exploring until you find someone that is.
If having a go-to cleaner is a requirement for you, Handy allows customers to select and save preferred home cleaners. That way, when it's time to book a service, you'll know who you're booking with as well!
In combination with the aforementioned points, a high-quality home cleaning service will almost always have several consistently available contractors. Most independent cleaners are looking for a high standard of consistency, stability, and quality as well, just coming from a different angle.
Now that you've experienced your first home cleaning service, it's time to give it a grade! Here is some information to consider when filling out your home cleaning report card.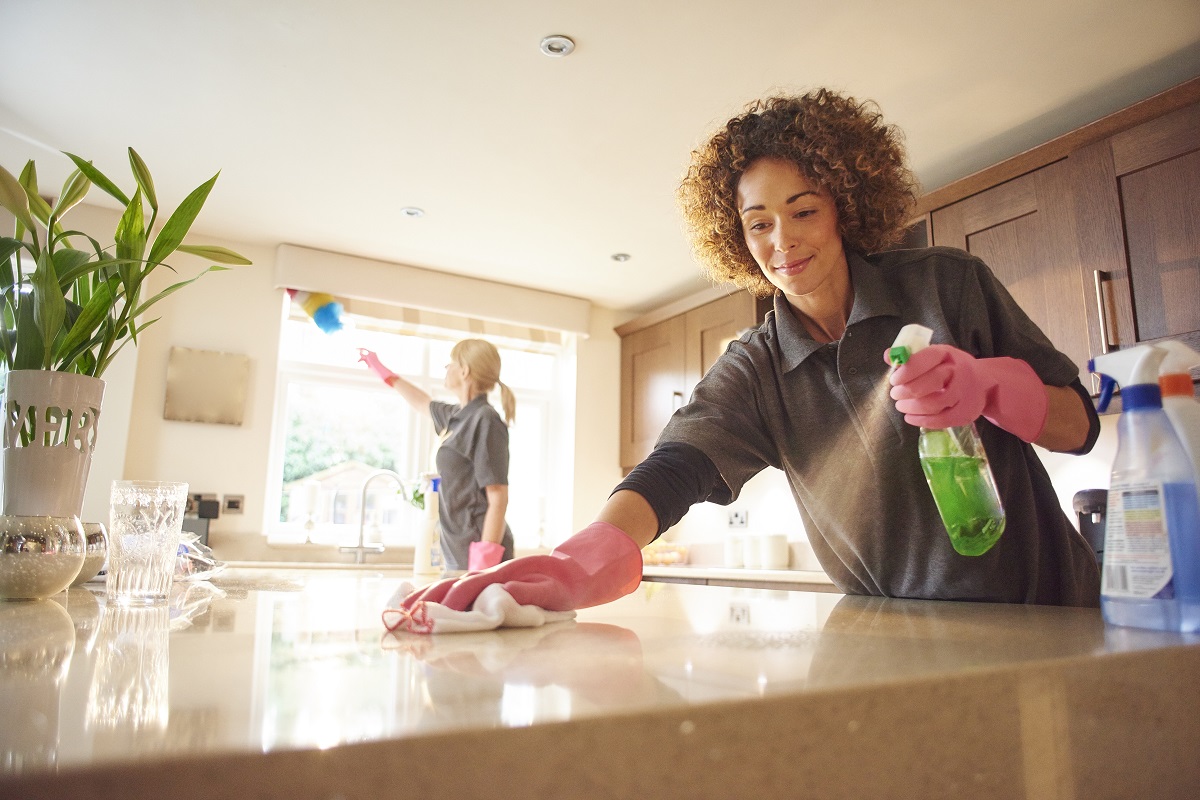 2. Rate your home cleaning service
Beyond the actual cleaner themselves, it's also important to rate the home cleaning service thoroughly from start to finish — especially the first few times around. Here are some practical points to consider during your review walkthrough.
Punctuality
If you're outsourcing your cleaning duties, you're likely doing so to save time, avoid stress, and stay on schedule. When considering these motivators, it's obviously essential that punctuality is a top priority! A good cleaning service is one that doesn't bring about extra anxiety and can be trusted to meet set expectations.
Did the cleaner arrive on time?
Unless there's an emergency, your cleaner should arrive on time. This is the first checkmark on the list of meeting set standards. In addition, being tardy one time may be okay in your book, but pay attention — regularly late behavior is likely indicative of cut corners in other places.
Did they finish on time or did they leave early? Or stay too late?
Pay attention to the duration of the cleaning as well. If your hired professional hits the road early, you may not be getting your money's worth. If you pay for an hour of help, there's no reason for your assistance to be cut short.
If a service takes longer than usual, this may also be an area of concern. Cleaning services should be easy to schedule, and knowing what timing to expect definitely comes with this territory.
Did the company cancel and rebook you with someone else?
This practical point is a little more nuanced. Sometimes things happen, making customers and their preferred cleaners unable to sync up due to unforeseen circumstances. With that being said, this happenstance should be uncommon and well-communicated.
If it so happens that the company needs to rebook you with someone else, you should be notified and given the opportunity to sign off on this change. Ultimately, it's your home and your rules! The right company will respect your need for transparency and choice in these matters.
Was the service generally completed as advertised?
What if you don't mind your professional showing up late, or skipping a few steps along the way? It's still always important to give a clear and honest assessment of service in relation to what standards were initially set.
This way, professionals can receive feedback and clarity about missteps they may be unaware of. In addition, a proper evaluation also helps the cleaning company to gather information to make their services and staff better, which ultimately allows them to serve their customers as best as possible.
Communication
Communication is key when it comes to cleaning services. If you're setting up a service with the intent to keep this routine going, you'll be a lot happier with professionals that you feel comfortable trusting to converse clearly and consistently. Here are some ways to assess communication skills in the very beginning.
Did the cleaner or the cleaning company respond to your questions in a satisfactory way?
Upon inquiring, do you feel heard, valued, and attended to? If a customer service representative, home cleaner, or any other employee is rude or dismissive towards your needs, that's a definite red flag to look out for.
Did the cleaner understand your home needs and ensure that they were met?
Do you feel at ease in being able to outline and discuss your requirements and expectations? With the right professional, this task should come seamlessly. To add, knowing and trusting that they'll be able to follow through is a necessary standard that should be valued and kept.
If you booked through an app, how easy was the booking? Did the app have any bugs?
Once again, the point of enlisting a home cleaning service is to make your life less complicated. Booking, finding help, navigating the app — these should all be easy-to-maneuver practices that save you time rather than add to the struggle.
Quality of service
The last order of business is, of course, the overall quality of service. This one is pretty simple — if the service met your standards, improved your home, and aided in your overall well-being, you'll probably want to book again! Here are some key points to look out for that ensure a home cleaning home run.
Did the cleaner use the appropriate tools to clean your home?
Did the cleaner come prepared with the right tools, and were the right tools used correctly? For example, did they use a wood cleaner for wood surfaces and switch to a grease cleaner for stove surfaces? Using cleaning supplies incorrectly leads to insufficient results at best and lasting damage at worst, so pay attention to this particular detail.
Did the cleaner cover all agreed areas of the home?
Was the job completed in full, or just partially? Did they dust the shelves, vacuum the corners, and place the dishes back after washing them? It's important to notice if your cleaner is missing out on key parts of the intended service. Catching this faux pas, in the beginning, will prevent these missteps from becoming recurring habits as time goes on.
We know you probably don't want to micro-manage the quality of your home cleaning service, but keeping a close eye for at least the first time or two will allow you to garner the information you need to build a trusting relationship with your preferred cleaner and company.
Was the cleaner friendly?
When it comes to home cleaning, an extra level of hospitality is required. Home is our safe space, and it can take a lot for us to trust a new service professional enough to enter. When inviting someone into your home, you want to make sure that you feel comfortable, safe, and at ease. In addition, a high level of respect and friendliness should be established and met by both parties.
Know what to expect ahead of time by using the Handy app or web browser. When selecting a home cleaner through Handy, you'll also be able to see their rating, as well as browse through helpful and informative reviews written by customers like you.
Was there any damage done?
After your cleaning service is completed, give your home a once-over to access the results or catch any damage just in case. On the off chance that you do notice damage, it's important to immediately report this to your home cleaning service's customer representatives.
Are you happy with the quality of service?
If you're a fan of your home cleaner and the results they provided, don't hesitate to hire them again! For example, Handy provides users with the option to add preferred cleaners to a list of favorites, allowing you to keep dedicated and dependable professionals on deck. Before you know it, you'll have implemented a routine of consistent, high-quality cleaning services that you'll barely have to think about scheduling!
Looking for a second opinion on what to look for in a home cleaner and cleaning service? Check out this article pertaining to what to look for when choosing the right house cleaning service and what to look for after a job has been completed. It shares many of the same points we've listed, and could offer you a little more peace of mind in your search!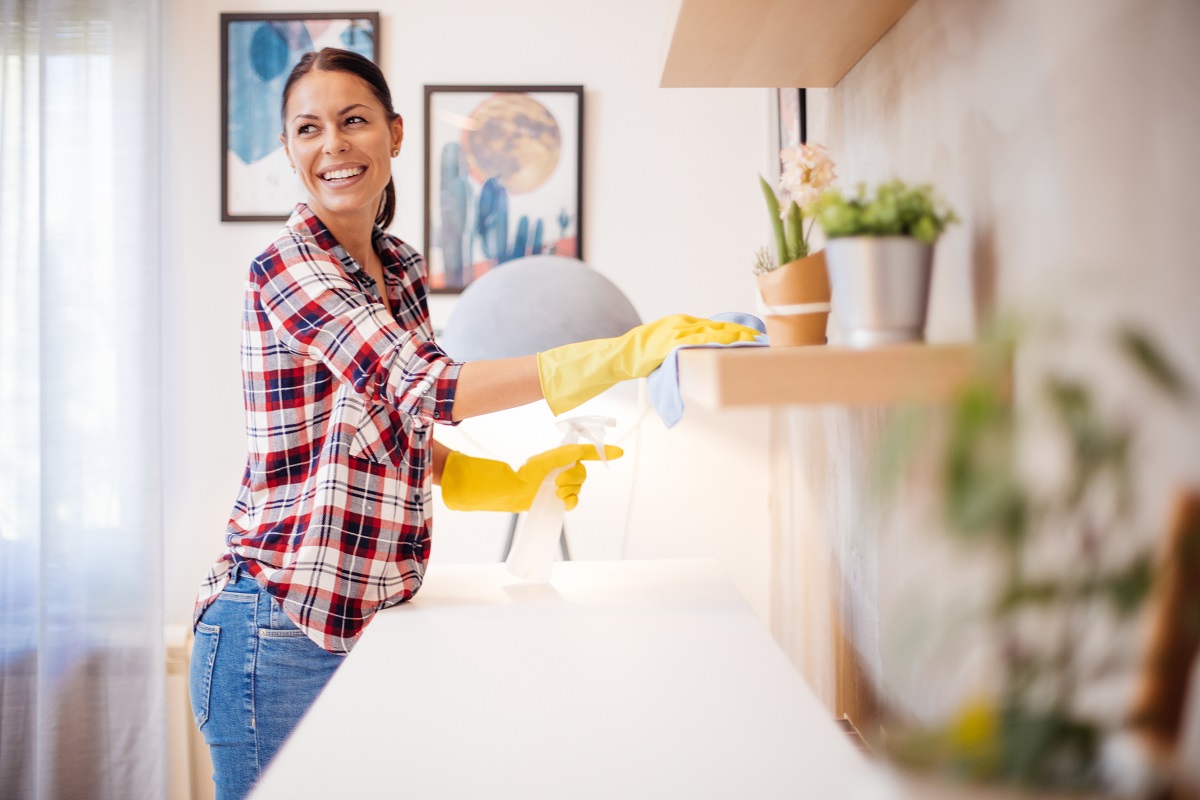 Your Shortcut to Finding a Favorite Home Cleaning Service
As you can see, there are quite a few things to consider when it comes to choosing a house cleaning service — especially at the beginning of your search. With that being said, doing your due diligence will surely pay off when you're in the flow of a routine cleaning service with professionals you trust and consistent results you can depend on. Here's a summarized list of why a home cleaning service can enhance your home life and overall happiness:
Division of labor
More free time
Less anxiety
Consistency and ease
An expertly cleaned house every time
Luxury at an affordable price
Furthermore, get a refresh through this recap to put yourself on the fast track to finding a top-tier cleaning service:
Know your cleaning needs
Research cleaning services in your area
Compare and contrast several services
Identify your top two and look for online discounts
Evaluate your first home cleaning service
Or, here's another idea: if you find yourself overwhelmed by this list or too tight on time to search the internet, this shortcut will take you to the highly trusted, well-reviewed, and thoroughly informative Handy website.
As mentioned several times in this article, Handy is a fabulous pick for anyone getting started with the implementation of a home cleaning service. Friendly and skilled home cleaners, a user-friendly app, consistently high-quality results, and affordable rates with recurring discounts — Handy checks every box.
Your home cleaning concerns can be resolved in a matter of clicks, so book on Handy today! (link.)